Kudos to Jamie Oliver for Leading the American Food Revolution
Written by Tabby Biddle

"For all the debate lately, one basic fact about America's health care crisis is rarely mentioned. Namely, the one thing that could really reform health care is you, collectively speaking: People living healthier lives."
- Steve Lohr, New York Times
As I've listened to the health care debate over the last year, my main concern has been the limited focus on preventative medicine. Did you know that studies show that 50 to 70 percent of the nation's health care costs are preventable? And do you know one of the best ways to prevent disease?Eating a healthy diet!Here's something important to know: This is the first generation of children who aren't expected to live as long as their parents.It's an open secret that kids today are growing up in a soda-filled, carbo-centric, junk food culture. According to the Centers for Disease Control, childhood obesity has more than tripled in the last 30 years (and the numbers keep growing). This increase in obesity has both immediate and long-term health effects for our kids, and our country. For example:
Obese kids are more likely to have risk factors for cardiovascular disease, such as high cholesterol or high blood pressure.
Obese kids are at a greater risk for bone and joint problems, sleep apnea, social and psychological problems such as stigmatization and poor self-esteem.
Obese kids are more likely to become overweight or obese adults, and therefore are more at risk for heart disease, type 2 diabetes, stroke, osteoarthritis, and several types of cancer.
Obesity can cut off 10, 12, 15 years or more of one's life.
Lots of people may be aware of this information, but why hasn't there been change?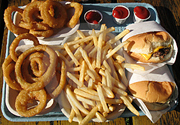 The fact is that even if parents are trying to feed their children healthy foods at home, the school lunch programs around the country are feeding them JUNK. French fries and chicken nuggets are school lunch staples. Add to this, the soda and candy vending machines around school serving your children sugar bombs are destined to set them up for diabetes, mood swings, and in my opinion, attention deficit issues.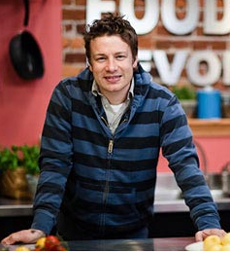 Jamie Oliver, chef, foodie author and television personality, is now on a mission to change the way America eats. After airing a four-hour television series in the UK aimed at improving school lunches, he got the British government to allocate one billion dollars to revitalize the British school lunch system. The revamped program includes more fresh foods, more local foods, better food standards, and no more junk in the vending machines. Nice work! Now Jamie is on an even bigger mission in the US doing what he calls, "Jamie Oliver's Food Revolution." Through a TV series, recently published book, and his website, he is inviting Americans to take a stand and change the way we eat in our home kitchens, schools and workplaces.Can he do it?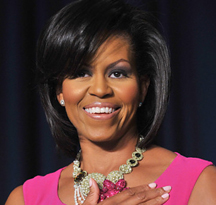 Luckily he's got First Lady Michelle Obama on the same team. Last month Michelle launched her Let's Move initiative aimed at solving the childhood obesity epidemic (within one generation!). Let's Move was designed to get healthier foods in schools, give parents support to make healthier choices for their children, and get families up off the couch and active together. Furthermore, and I think probably the most important aspect of the program, it is focused on getting healthy, affordable food available in every part of the country. Whether we want to talk about it or not, money is a core element of the health equation, and cannot be ignored."The culture of supermarkets - buy one get one free, and the bargain deals - is so weighted on the highly processed cheap foods, junk foods, snack foods, and drinks. But also give us some deals on something seasonal and local in America," said Jamie in an interview with Oprah that aired last Friday, the same day that Food Revolution premiered on primetime ABC.In my opinion, if our country wants to get itself back on its feet fiscally, health should be our number one priority. Without our health, what we do have? Now is the time to heal the huge disconnect between wanting to be the best country in the world and at the same time abusing our health, which is the very core of who we are. It is time to heal the rift between what we vision in our minds for our future, and what we are actually feeding our bodies in the present."Enough is enough," says Jamie. "The standards in this country are not protecting your kids, and I want mothers and fathers to get angry about this."Anger can be a good first step, as long as it fuels the fire for positive action.As with many things in life, just a little effort can make a massive difference. If you want to make a positive difference in the health of your children and in effect, the health of our country, here are some simple things you can do.• Shop for your family at your local farmer's market.• If you don't have a local farmer's market, buy local foods at your grocery store.• Buy organic as much as possible.• Take your kids with you to shop for foods and teach them where the foods come from.• If you have outdoor space, start a vegetable garden with your kids.• If you already have a garden, involve your kids in it.• If you have limited outdoor space, consider planting herbs, small lettuces, and cherry tomatoes in window boxes.• Talk to other parents about the changes you'd like to see in the lunch program at your child's school.• Attend PTA meetings and give voice to changes you know need to happen.• Talk to the school principal to open up dialogue about food at the school.• Sign Jamie's petition for fresh foods in school. Jamie will take this petition to the White House to show President Obama and First Lady Michelle Obama how many people across the country really care, and ask for their support.
You can get healthy recipes to be used in your child's school or in your home on Jamie's website. The LunchBox: Healthy Tools to Help All Schools is also a great resource for healthy menus and recipes.Jamie Oliver's Food Revolution can be viewed on Fridays at 9pm/8c on ABC.*****************************************************************Tabby Biddle, M.S.Ed., is a writer and editor living in Santa Monica, CA. She specializes in women's issues, personal growth, health and wellness. Her writing has been featured by The Huffington Post, Los Angeles Times, USA Today, and other national media.