The Real Heroines in Media
Written by Tabby Biddle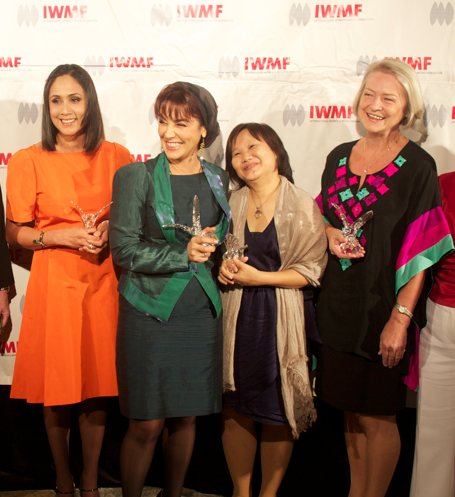 Courage in Journalism Award recipients (L-R): Adela Navarro Bello of Mexico, Parisa Hafezi of Iran, Chiranuch Premchaiporn of Thailand, and Lifetime Achievement Award recipient Kate Adie of the U.K. Photo by Tabby Biddle.
In the United States, many of us take the freedom of the press for granted. But in numerous parts of the world, freedom of the press is not the norm. Journalists face political harassment, threats of imprisonment, violence, and even death, simply for doing their jobs and reporting the truth. Many of these journalists are women, but all too often we don't hear about them.Fortunately the International Women's Media Foundation (
IWMF
) takes the time to honor and celebrate the incredible, brave work of these women.Last week in New York and Los Angeles, The International Women's Media Foundation recognized
four women journalists
for their courage and willingness to risk their lives to cover the news in order to shine a light on repressive governments, corruption, injustice and crimes against humanity.In many instances these journalists are still under threat.Take for instance
Adela Navarro Bello
of Mexico, who is the general director of
Zeta
magazine in Tijuana. Adela covers the corruption and
escalating violence of drug cartels
in her home of Tijuana. Investigative journalism is a very risky profession in Mexico when you look at the fact that over the last five years, nearly 50 journalists have been gunned down, including two of Adela's editors.Adela says that in Mexico it's possible to kill a reporter and never be sentenced, arrested, tracked down, or even accused of your crime. Despite repeated death threats, Adela refuses to stop covering the drug wars. "If you don't report what's happening, you are an accomplice to these people," says Adela.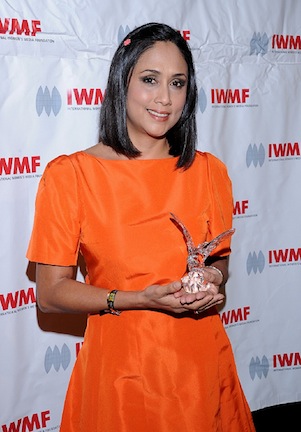 "The thing that led me to journalism was the seeking of social justice," says Adela Navarro Bello, general director of Zeta Magazine in Tijuana. Photo by Vince Bucci/PictureGroup.
Parisa Hafezi,
Reuters Iranian bureau chief, covers political unrest in her country. After Iran's disputed 2009 presidential election, hundreds of thousands of protesters took to the streets of Tehran. While Parisa was covering the news, riot police attacked her and beat her with electric batons. Later, her office was raided by the Revolutionary Guard, she was abducted, interrogated, and accused of being a spy. "I kept thinking 'My God, I'm just trying to do my job, and I'm being punished,'" says Parisa.Despite having endured violent attacks, beatings, harassment, interrogations and detainment to report the news, she has never thought about leaving. "I love my job. I'm creating a difference. I'm doing something," she said in an interview with me. "As a woman, I think I have a part in this fight and I shall continue it for the future of my daughters."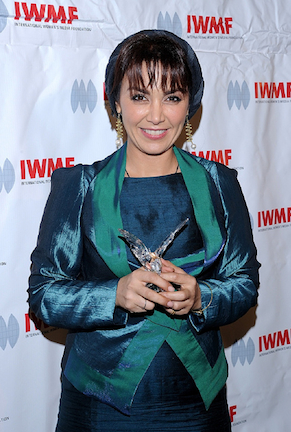 "I keep thinking that maybe as an Iranian woman I can take this opportunity to help other women. I can help other people and help them be heard. That calms me down," says Parisa Hafezi, Reuters Bureau Chief in Iran. Photo by Vince Bucci/PictureGroup.
Chiranuch Premchaiporn
of Thailand is on trial for allowing visitors to her independent website, Prachatai, to post comments criticizing the Thai monarchy. She faces the prospect of a 20-year prison sentence for failing to delete the critical remarks.In Thailand, the media has been tightly controlled by the government over the last 70 years. Chiranuch says she started
Prachatai
("Free People") in 2004 to ensure the rights of people to access information and to express themselves. In March 2009, 10 policemen raided Chiranuch's office in Bangkok, ceased her computer equipment, and harshly interrogated her.Despite the political harassment and threats, Chiranuch remains determined to speak out about Internet freedom. "Some of my family members want me to resign from my job," she says. "But I try to let them know that the thing that I did is the thing that I believe in - courage in journalism."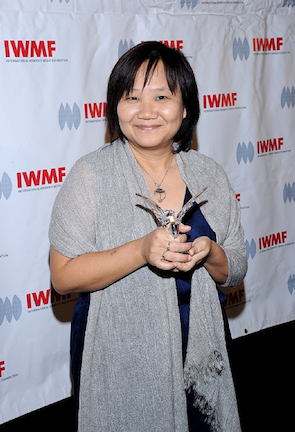 "Everything in Thailand is politicized. That's why we turn to the Internet to find the truth and to speak out," says Chiranuch Premchaiporn, director and webmaster of Prachatai online newspaper in Thailand. Photo by Vince Bucci/PictureGroup.
These women don't let anything stand in their way of telling the stories that need to be told. They don't back down. They won't be silenced. These are the real heroines of media.
The International Women's Media Foundation aims to increase women's voices both as journalists and as sources. They have developed programs to cultivate women leaders and provide grants to media projects led by women. You can learn more and get involved here.Tabby Biddle, M.S. Ed
.,
is a journalist, writing coach, and consultant dedicated to amplifying the voices of women changemakers. Her writing has been featured by The Huffington Post, the Los Angeles Times, USA Today, UN Dispatch, NPR, Current TV, Gaiam and other popular online media.  She lives in Santa Monica, CA with her husband, Lee Schneider, and kitty, Max Frederick.
For more information, visit tabbybiddle.com.