The Clinton Global Initiative: Empowering Girls and Women
Today was Day Two of the 2010 Clinton Global Initiative Annual Meeting in New York City. The Clinton Global Initiative (CGI) was created by President Bill Clinton in 2005 to build alliances, partnerships, and collaborations between governments, the private sector, NGOs, and other global leaders to confront the world's most pressing problems.
The four main focus areas of this year's meeting are:
• Empowering girls and women
• Strengthening Market-Based Solutions
• Enhancing Access to Modern Technology
• Harnessing Human Potential
As a journalist dedicated to bringing the issues of girls and women to the forefront of public attention, I will focus this article on the CGI action area of empowering girls and women.
As a precursor to a panel discussion entitled, Empowering Girls and Women, the audience of 1300 was shown an animated video that clearly depicted the disempowering and destructive cycle that goes on for girls and women in developing countries around the world.
Here is the cycle: When a girl turns 12 and lives in poverty, her future is out of her control. In the eyes of many, she is considered a woman. But is she really? She faces the reality of being married at 14, pregnant by 15, and if she survives childbirth, she may be forced to sell her body to support her family. This puts her at risk for contracting and spreading HIV, as well as other diseases.
Not the life most of us imagine for a 12-year-old, right?
The good news, as the video illustrated, is that there is a solution. Here it is: If at 12, a girl has an opportunity to go to school, has access to a doctor, doesn't get married at 14, and stays in school where she is safe, at 18 she can use her education to earn a living. Now she is calling the shots. She can avoid being forced to sell her body in prostitution. She can avoid HIV. She can avoid poverty. She can marry and have children when she is ready, and her children then can be healthy like she is.
Now imagine that continuing generation after generation.
Around the world, girls and women continue to suffer from a lack of economic opportunity, inadequate health care and education, early marriage, sexual violence, and discrimination. Today, 50 million 12-year-old girls live in poverty, an estimated three million girls are enslaved in the sex trade, and 1 girl dies every 10 seconds from medical complications.
Did you know that one of the leading causes of death for women between the ages of 15 and 19 is medical complications due to pregnancy?
And did you know that a child is 50 percent more likely to make it to her 5th birthday if her mother is literate?
This is the power of the Girl Effect. All of this impacts the world.
When given opportunities to learn and work, girls, later women, can drive economic growth and development. For example, women are likely to reinvest significantly more of their income into their families than men. The latest statistics show that women inject 90 percent of their earnings back into the family, spending on things like their children's education and health. Men, on the other hand, spend only 30 to 40 percent back into the family. In some countries, an increase of just 1 percent in girls' education can boost GDP growth rates by 0.2 percent.
"So when you educate a woman, you really do transform societies," said Queen Rania Al Abdullah of Jordan yesterday in the panel discussion. "It's not just about doing girls a favor, it's really about benefits that cascade throughout society and really make a huge difference."
Queen Rania sat on the panel with Ellen Johnson Sirleaf, president of the Republic of Liberia, and Muhtar Kent, chairman and CEO of the Coca-Cola Company. Katie Couric moderated.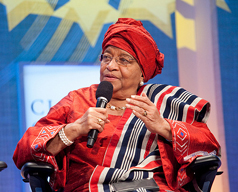 President Ellen Johnson Sirleaf says she has been working on increasing educational opportunities for women in Liberia. For example, many of the women who work in the market could not read. So she introduced to a literacy-training program to the market women. She says they are now feeling sufficiently strong and independent enough to stand up in community meetings and speak their minds about what their rights are. "This has given them a voice in decision-making," she explained in yesterday's panel discussion.
While President Sirleaf says that Liberia's education program for women is still a big challenge, she sees the transformation happening "...when a market woman says to me 'there was a time when conditions were so tough that I used to pray for God to take me, for me to die quickly. But now I just want to live long so I can be what I want to be.'"
I'd say that's transformation.
Also in Liberia, sexual violence has decreased because they have implemented a tough rape law, i.e. tougher penalties for violators. Seems like a common sense solution, right? Today, there are far too many countries that don't have laws against sexual violence, and if they do have laws, they don't enforce them. This is a big area that needs to be worked on.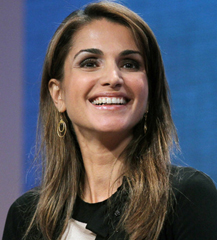 "We have decades of evidence that show that no country can make any progress in spite of its women. They make it with the full participation of women," said Queen Rania. She pointed out that if you look at the past 20 years, women have contributed more to the global GDP than new technologies or the emerging markets of India and China.
"Unleash the potential of women, and that's how you are going to stimulate your economy. It's as simple as that," says Queen Rania.
There is no question that today world leaders need to make investing in girls and women a priority.
While I respect that many leaders are looking at this from an economic perspective in order to stimulate interest and motivation for investment, I think we also need to find some motivation from a basic human respect perspective. Girls deserve as much respect, value, and opportunities as boys; and women deserve as much respect, value, and opportunities as men. Simple as that.
Three basic laws that should be enforced:
• Prison for rape
• Prison for sex traffickers
• Child marriage should be illegal. (The legal age for marriage should be raised to 18.)
Since the inception of the Clinton Global Initiative in 2005, more than 16 million girls and women have had access to empowerment initiatives; 50 million children have had access to education; and 75 million girls and women have had access to improved maternal health. In 2009, the Clinton Global Initiative Annual Meeting had a special focus on girls and women. This year the topic has been elevated into its own "Action Area."
Yesterday I posted a New York Times article on my Facebook page that discussed how families in Afghanistan are disguising girls as boys for social status and the social pressure to have sons. I wrote with my post, "This kind of thing has got to be changed!" One commenter, male, posted this response: "Unfortunately it never will."
I disagree 100 percent.
Things can change, are changing, and will continue to change. It will take the courage and determination of many of us to continually stand up and speak up for the rights and value of girls and women around the world. We will build programs, schools, hospitals, and laws to care for, educate and empower girls and women. While massive change may not happen overnight, every step we take toward empowering girls and women matters. The deep change we want may take generations, and that's okay. Every step we take right now will help a girl or woman today, and that's what matters.
Here's what you can do right now to help girls and women around the world:
Go to GirlUp.org. This program started by the United Nations Foundation is about harnessing the skills and social networks of girls in the United States to help their peers in developing countries. For example, the program allows a girl in Louisiana to help a girl in Liberia, or a girl in Missouri to help a girl in Malawi. If you go to the site, you will see there is a movement called High Five. You can donate five dollars or more to help girls go for a health check up, get clean water, get school supplies, keep them safe from violence, and more.
Go to Care.org. This organization is focused on eliminating global poverty by empowering women and girls. They have made reducing maternal mortality one of its top priorities. You can improve access to safe pregnancy and delivery services for millions of women in Africa, Asia and Latin America through their program, "Mothers Matter."
Tabby Biddle, M.S. Ed., is a writer, editor, and reporter dedicated to the empowerment of women and girls. Her work has been featured by The Los Angeles Times, USA Today, NPR, and other national media. She is a regular contributor to The Huffington Post on women's issues and reports on the inspiring work of women changemakers. She lives in Santa Monica, CA.