Girls Not Brides: A Movement to End Child Marriage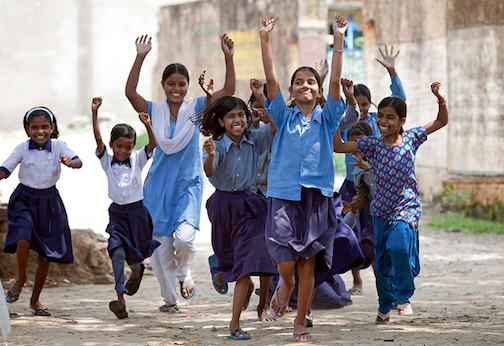 Photo Credit: Graham Crouch|The Elders
Every year
10 million girls are forcibly married
, some as young as five years old. They become slaves to their husbands and often suffer sexual abuse and domestic violence. It's terrible enough that these girls are being forced into marriage, but it's even more horrific that they are also being forced to become mothers at such a young age. Did you know that the
leading cause of death for girls
between ages 15 and 19 is childbirth?"People don't seem to talk much about child brides ... but I can not stay silent," said
Archbishop Desmond Tutu
last month at the
Social Good Summit
in New York City. Held during UN Week, the Social Good Summit was a partnership effort between the
United Nations Foundation
, Mashable, and the
92nd Street Y
to bring global leaders together with a live audience in New York City and thousands around the world participating via Livestream.At the Summit, Archbishop Tutu spoke about the launch of a new global campaign to end child marriage
within a generation
. It's called
Girls Not Brides
. The initiative was established by
the Elders
, a group of eminent global leaders, of which Archbishop Tutu is the chair. "Once you have women liberated, it's amazing how many other problems get resolved," he said to a full house at the 92nd Street Y.Agreed. Research shows that the practice of child marriage contributes significantly to core development challenges, including poverty, education, maternal and child health, HIV and gender equality. "Yet disturbingly, it has remained on the sidelines of the mainstream development debate," said
Mary Robinson
, former President of Ireland, former United Nations High Commissioner for Human Rights, and a member of the Elders.I think it's pretty obvious that if girls get a chance, in the form of education, they can be much more than child bride slaves. In fact, each year a girl stays in school, it boosts her future income by 10 to 20 percent. "And since girls and women are likely to
invest 90 percent of their income
in their families -- as opposed to a man's 30 to 40 percent -- the education and empowerment of girls and women has an impact that ripples across a society," says
Jennifer Buffett
, president and co-chair of the
NoVo Foundation.
Indeed, research shows that when girls in the developing world have access to education and are therefore able to earn a living, they move their families, and often their entire communities, out of poverty. This ripple effect is called "
The Girl Effect.
"So what is Girls Not Brides doing about this?They are bringing together organizations from around the world to tackle child marriage at the grassroots, national and global level. There is a
wide rage of players
, from community organizations on the front lines to international agencies. Together they will help mobilize all necessary policy, finances, and other support needed. Some of the specifics include defending the rights of girls to health and education, and providing them with opportunities to fulfill their potential.Girls have been at the bottom of the power pyramid for far too long. They have also been at the bottom of the human rights agenda. As you might imagine, the practice of child marriage violates several international human rights agreements, including the
Universal Declaration of Human Rights
and the
U.N. Convention on the Rights of the Child
. While the practice of child marriage has been rooted in the traditions of many communities for generations and has remained largely unchallenged, this is all about to change.
To join the movement to end child marriage, visit the Girls Not Brides campaign.Become a part of the 2011 Girl Effect Blogging Campaign. This is a collaborative effort of hundreds of bloggers coming together to write about The Girl Effect during the week of October 4th-11th, 2011. Your voice will make a difference!
Tabby Biddle, M.S. Ed., is a writer, teacher, and women's empowerment advocate dedicated to raising awareness around issues affecting women and girls and helping young women develop their political voice. She received her Master's degree in Education from Bank Street College of Education and her Bachelor's degree in Political Science from Colby College. She lives in Santa Monica, CA with her husband and kitty cat.An earlier edition of this blog was published in The Huffington Post.